I'm linking up with Amy and Holly for this "Day in the Life" post! Thanks ladies for hosting! Here is a typical "day in the life" of a mom with a 3 month old!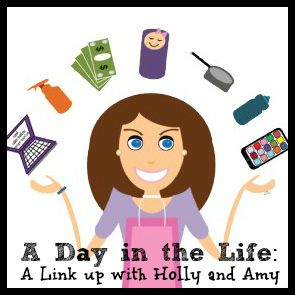 My husband ALWAYS sets his alarm for 6 or 6:30am. Never fails. EVERY DAY. The only problem I have with this is that he will hit the snooze button AT LEAST half a dozen times. He also sets the alarms on his personal phone, work phone, personal Ipad and work Ipad. To say that I want to chunk all those devices out the window is the understatement of the year :) Alarm sounds have to be the most annoying sounds ever created.
This morning, my sweet Eli was my alarm clock. He woke me up at 6:25 sharp with a big grin on his face! Ready for a baba (bottle). Who could be grouchy when they wake up to this sweet face?
After a quick bottle feed, Eli (and Mommy) are snoozing once again...Thank you sweet baby Jesus :)
I wake up around 8:30 and hop in the shower. What a lucky day to have a clean body before the sun is setting. It's gonna be a good day!
Check on Eli- He's snoozing and he's missing a sock. WHERE DO THEY GO??? I would later find it UNDER THE CRIB. How does that even happen?
9:10 I find this lovely surprise on my husband's side of the bed...
I have come to the conclusion that I will NEVER be able to "train" my sweet hubby to place dirty clothes in the hamper. It's just a fact of life and I will just have to deal :)
Around 9:30, I lost my phone. Let's just say it...I'm addicted to my phone. I feel completely lost without it. I mean, what if I miss a super awesome post on facebook or miss a great pin on Pinterest. How would I ever go on??!!
9:35- found the phone...thank goodness! It was on the table, in plain sight. I must have walked around it twice and didn't even see it!
10:10- bathe Eli and get him dressed for the day. We are going to meet Daddy to go to a doctor's appointment with him. Eli is getting so wiggly these days. It's hard to keep him from flipping over while changing diapers and dressing him!
10:40- I lost my phone again. 10:42- found it beside the powdery mess on the bar where I had been making bottles for the day.
I loaded the car so we could go meet Daddy. Did I mention that you have to pack pretty much your whole house when you have a child??? Who needs to work out when you carry strollers and fifteen bags on your arms all while carrying a carseat with a 14 pound kid inside.
We met Daddy at his office. Dropped off his company car at the ole Jiffy Lube. They have to be the nicest people ever. Seriously. Get your car serviced there.
Had to do a little feeding session before we could leave the parking lot. When Eli is hungry, he gets MAD :)
12:05- we arrive at Daddy's doctor's appointment. We are about 30 minutes early. Much to my surprise, they called us back early. WOW! Shock of a lifetime. I figured we would spend half the day in the waiting room. Lucky! (in my best Napolean Dynamite voice)
Sitting in the doctor's office. Look at Eli grinning at his Daddy. So sweet!
After the doctor's visit, I picked up lunch- I'm not saying what I picked up. Let's just say that our nickname for it is "Taco Hell" and it is NOT on my diet plan. Then I headed over to the cleaners to pick up my husband's clothes. I headed home and ate a quick lunch with my husband and he finished packing for his business trip.
After lunch (which wasn't until 2:30), I headed back to Wal-Mart to pick up some prescriptions. I really despise that place. They are constantly changing up where things are so that I will spend SO much more money because I can't pass up the piggy bank or house shoes they have sitting in the middle of the aisles to catch my attention. I can't stand it, but I find myself visiting it several times a week. What is wrong with me??!
Around 5:20, we said goodbye to Daddy. He will return Wednesday night. I always hate to see him go, but I love to see him leave :) hahaha! Remember that pick up line? But seriously, I really do miss him when he is gone.
See that flag?? Roll Tide Roll! We may live in Oklahoma, but we are Bama fans all the way!
I wanted to take a nice walk around this awesome pond we have in our neighborhood. I really enjoy strolling Eli and he enjoys it too. It was just way too hot for all that foolishness! Here is a pic that I took (from my air conditioned vehicle!)

The rest of my evening went a little something like this: changed a lot of diapers, played on the playmat with Eli, rocked Eli, read him a few bible stories out of his kids bible that Daddy got him, dressed him for bed, fed him, rocked him. Repeat. You get the picture.
I did manage to fit in a little night time snack in between doing laundry and washing up bottles...let me just say that this is not on my diet either...but at least it's a low fat snack :) (beside the fact that it has 20 grams of sugar for two pieces...ouch)

Does it cancel out because it's sitting by the fruit bowl??? Yes, I think it does!











I managed to squeeze in a couple of episodes of Friends (my favorite show) and also a fun, late-night game of Scrabble with my hubby (who is 3 hours away). Isn't technology grand??!
Well, that's about it. I'm about to crash into the bed. It's 1:30am and my human alarm clock will have me rising very soon! I didn't know being a stay-at-home mom was such a job! I love every minute of it! Stay tuned for more updates on our crazy, busy life!